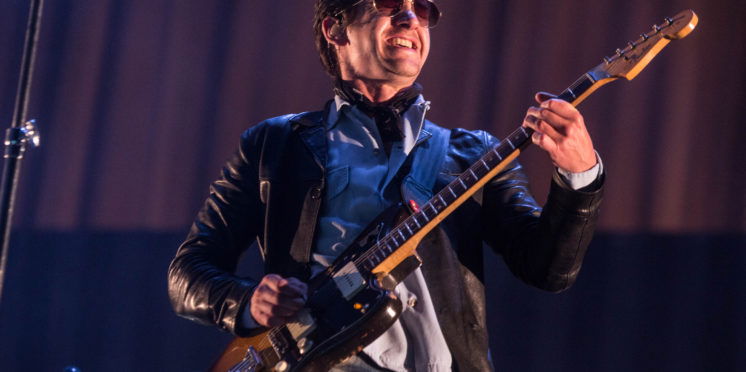 One year on: Tranquility Base Hotel & Casino by Arctic Monkeys
Arctic Monkeys are my all time favourite band. No one else has ever made music that has spoken to me in quite the way they have. I own all six of the albums they have released to date, I know every one of their songs and the brilliant lyrics of their frontman Alex Turner have accompanied me through my highest of highs and lowest of lows.
On 11th May 2018, the Sheffield band released Tranquility Base Hotel & Casino, their first new material for nearly five years. It was a completely different sound, led by the piano, which left some fans used to them thrashing on guitars upset. I loved it, however, and love it even more now as it reaches its first anniversary. I'll tell you why.
Tranquility Base Hotel & Casino is a collection of eleven songs loosely based around the idea that the human race has colonised the moon and opened a hotel and casino complex on it. Yet, the aesthetic feels like the 1970s. You need only to look at the video for the title track to see what I mean.
YouTube: Arctic Monkeys – Tranquility Base Hotel & Casino (Official Video)
Tranquility Base Hotel & Casino is meant to feel like a place you can go and spend a while. Tranquility Base was the name given to the area of the moon that Apollo 11 landed on in July 1969.
Alex Turner said: 'I liked the idea of naming [the album] after a place, because to me records that I've been in love with and continue to be in love with feel like they're places that you can go for a while.'
For me, it absolutely achieves that aim. I have listened to the album hundreds of times, often when I've got into my car after a tedious day of pushing trolleys around a supermarket car park. Heading to Tranquility Base for 41 minutes is a great way to escape the mundanities of real life.
In these days of cherry-picking individual songs on streaming services, it was a bold move to release a proper album – a collection of songs designed to be listened to as a whole, in a particular order. The end of One Point Perspective actually blends into the beginning of American Sports to emphasise this.
The album is full of quotable lines. You get the feeling Turner was enjoying himself writing it, relishing the freedom its other-worldly setting was affording him. The genre of science fiction is often used as a method of commenting on our own world, as if taking a step back and looking at it from a different perspective offers the opportunity to say things you might not feel comfortable with otherwise.
Turner does this in the song Golden Trunks. He had always steered clear of politics in his lyrics, but with this album, he felt able to have a little stab at it.
'The leader of the free world
Reminds you of a wrestler wearing tight golden trunks'
Golden Trunks
I don't know about you, but I get a rather unpleasant image of Donald Trump in my head after hearing that.
Music is saturated with love songs. Turner wanted to give them a swerve after several of them appeared on Everything You've Come To Expect, the 2016 album he made with his side project The Last Shadow Puppets. A couple made their way onto this album, though, with the closing track The Ultracheese being the most gushing. It is this song that contains my favourite line of the whole album.
'Oh, the dawn won't stop weighing a tonne
I've done some things that I shouldn't have done
But I haven't stopped loving you once'
The Ultracheese
Whenever I hear that the hairs on the back of my neck stand up. It's such a great observation about love – we mess up sometimes, but we never stop loving.
In September last year, I saw Arctic Monkeys on their UK tour at the Sheffield Arena. It was a dream come true, seeing my heroes in the flesh in their hometown. The aesthetic they had created with the album carried on perfectly – the stage design, the clothes the band wore and even their hairstyles complemented Tranquility Base wonderfully.
Tranquility Base Hotel & Casino is a brilliant, mature, visceral album that I will be listening to for years to come. I hope you give it a try.
Tracklist (click on a song to listen)
Now watch Arctic Monkeys perform the opening track, Star Treatment, live at TRNSMT festival in Glasgow from July 2018.
YouTube: Arctic Monkeys: Star Treatment (TRNSMT 2018)
---